YES Oil Spill Response, NO Shepard Point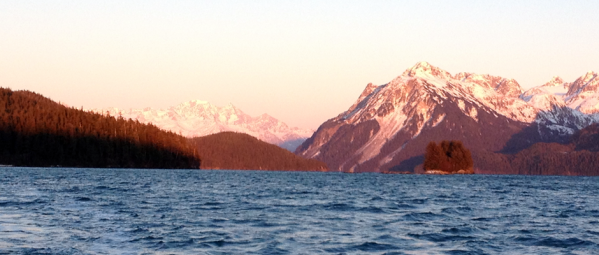 Problem: A deep water port at Shepard Point (proposed under the false pretext as an oil spill response location) would allow devastating resource extraction and actually hinder oil spill response effectiveness.
Goal: An accessible and effective rapid oil spill rapid response facility in an environmentally sound and safe location for Eastern Prince William Sound, in Cordova.
Cordova, Alaska was one of the original staging areas for the Exxon Valdez oil spill response team and today continues to harbor the largest oil spill response fleet in the Prince William Sound. Despite Cordova's strategic importance, for years, the Eyak Preservation Council has opposed the Shepard Point deep water port development even though the project has long masqueraded as one that would increase oil spill response capabilities in the region. The problem: a deep water port at Shepard Point would pave the way for devastating resource extraction and actually hinder oil spill response effectiveness.
Currently, a deep water access port does not exist in the eastern portion of Prince William Sound. Shepard Point would provide the necessary infrastructure to facilitate logging, mountain top removal coal mining and road development into an otherwise roadless area. Any of these destructive development projects would destroy boreal rainforest and threaten the vital riverine habitat that has supported healthy wild salmon runs, Native culture and the economic sustainability of the region.
While a deep water access port at Shepard Point raises a variety of environmental concerns, the project has also met widespread community opposition because the location actually decreases oil spill response effectiveness. Currently, the SERVS-certified oil spill response team, which is made up of local commercial fishing vessels, operates out of the Cordova small boat harbor. Shepard Point is located five nautical miles (nm) north of Cordova. The remote Shepard Point location increases the travel time for oil spill response teams and resupply vessels by 3.9 nm for spills in Prince William Sound, by 10.1 nm for spills in the Gulf of Alaska or the Copper River Delta and by 10.1 miles for spills in Orca Inlet. That added distance could delay response time by an hour or more.
In addition, to be effective any oil spill response staging area would need to be close to the Cordova airport, have year round road access and be close to town resources. Shepard Point has none of these attributes. Of the possible oil spill response facility locations in Cordova, Shepard Point is the least accessible from the airport and the farthest from town. Oil spill response planners are also extremely concerned about year-round road access because the proposed Shepard Point road would traverse 18 active avalanche chutes. Any road closure could seriously delay response time and access to response equipment.
Despite these serious problems with the Shepard Point project, proponents continue to push for the development. In the ongoing saga, most recently, EPC's effort to expose the underlying agenda and problems with the Shepard Point project resonated strongly with the community and again halted the development of the deep water port. In April 2010, prior to the final Clean Water Act permit decision from the Army Corps of Engineers, the Native Village of Eyak requested a suspension of the permit application. For the time being, the Army Corps has closed the permit file, but the Shepard Point project is not going away.

For 18 years, EPC and others have succeeded in stopping the ill-advised Shepard Point project. Now is the time to shift gears and take a proactive approach. The community of Cordova has waited long enough and deserves to have an oil spill response facility that makes strategic, economic and environmental sense.
Another location that is less environmentally damaging, expensive, and dangerous has been deemed acceptable for the oil spill response facility by the Army Corps of Engineers. It is EPC's intention is to have the consent decree (see facts) changed to include this location and have it chosen for the facility's construction.
Shepard Pointless!
Yet again we must alert the local and regional community which has come out time and time again against this proposed bad port project.
During our ongoing due diligence, we recently found a new twist has been thrown into the mix. The Native Village of Eyak jumped over the government agencies it had been working with (Bureau of Indian Affairs and the Department of Transportation) and started working with a division of Department of Transportation called the Western Federal Lands Highway Division (FHA).
EPC has uncovered that documents were signed less than a month ago, including a Memo of Understanding, which reveal that Federal Lands Highway Division and Department of Transportation will transfer $250,000 of public monies in July to Native Village of Eyak. The stated reason by the contact, Robert Sparrow at the FHA is for "...implementation, planning, and permitting....".
These monies are earmarked specifically for construction of an oil spill response facility, though, as explained below under "Facts", Shepard Point was erroneously listed as the only specified location. EPC's contact at FHA stated he didn't know that there are avalanche chutes on the road easement and major community opposition. He said he had been to Shepard point, but it was so foggy he couldn't see anything that day.
We have contacted the Army Corps of Engineers, the Federal Lands Highway Division in Washington DC and the Department of Transportation and have filed a Freedom of Information Act (FOIA) to the FHA, which we should receive this week, and we will update this communication as soon as we get the documents.
__________________________________________________________
Report on Shepard Point Public Meeting - June 18, 2014
A Public Meeting was held in Cordova about the proposed Shepard Point Road and Deep water Port facility as the location for Cordova's oil spill response facility. For those familiar with this project, and EPC's long standing part in holding off the project, the meeting presented an opportunity to continue with a horrendously tedious financially-motivated argument. It is well known, and even indicated in the 1992 Consent Decree, this location for an oil spill response facility port is not about enhanced oil spill response; it's about spending millions of dollars of public money on a private project to turn Cordova into a port city and to access a pristine inlet for development, cruise ships and resource extraction.
The meeting was hosted by the Army Corps of Engineers and was facilitated by CH2M Hill – the firm hired by the Native Village of Eyak to specifically provide data to help overcome permitting obstacles. The Army Corps stated that this meeting was a "fact finding" and public informational meeting. They also stated that they are in the middle of their deliberative process. The Native Village of Eyak is applying for the Clean Water Act 404 permit required to start construction of the road and port project. This is the second time they have applied; after we located Orca Cannery as a viable alternative last go round, NVE pulled the last permit application in 2009.
Over 20 Cordova citizens came to the scheduled 4PM to 6PM meeting in Cordova. Attending also were four employees from CH2M Hill and three representatives from the Army Corps. The 404 Clean Water Applicant, the Native Village of Eyak, was represented by three of their council members and president, the acting ED and the Shepard Point project manager and several staff members. Also present was a board member from the Eyak Corporation.
The meeting was structured and facilitated by CH2M Hill. NVE's video (http://www.shepardpoint.com) was shown that connects the project to oil spill response by spending the majority of the video on remembrances of the Exxon Valdez oil spill tragedy. Then CH2M Hill gave a presentation about all the analysis and data they have done that endeavored to show how great the road and site would be for oil spill response for Cordova.
CH2M Hill instructed the meeting participants that this meeting was only about the Shepard Point road and deepwater port site; alternative project sites were not on the agenda. Attendees were instructed to write questions and statements on supplied cards (names and contact info optional), and the CH2M Hill facilitator would read aloud the question and either CH2M Hill or the Corps answered. CH2M Hill attempted to answer most questions but there was some obvious editing. There were also some audience comments and statements that were allowed but this was a controlled atmosphere.
As meetings in years past, it was obvious the majority of the respectful group of Cordovan's were against the proposed oil spill response facility at this site. The majority of the statements and questions brought up the irrational, dangerous and expensive nature of this long-time drawn out exercise in futility. The proponent's statements were few and several times CH2MHill had no response. "I don't know" was also an occasional answer by CH2M Hill.
A few highlights from the Q & A session: The construction is stated to create only 9 temporary jobs, and they do not expect any permanent jobs after construction is completed. CH2M Hill denied that EVOS funds are being used. About $700,000 has already been spent, but there was no indication as to what time frame. Any plans for additional uses were denied. CH2M Hill was careful to state that "At present" there are no other planned uses for the facility other than enhanced oil spill response. The type of enhanced response they plan to offer from Shepard Point is cloudy at best – NVE has no contracts with any oil spill response contractor. The dangerous risks to human life and oil spill response presented by the road route (traversing 17 avalanche chutes) were minimalized. Project cost to finish was estimated at $40M, of which NVE stated a third has been secured. The acting NVE ED feels they can leverage the balance needed, but didn't know where it would come from. It was also shown that CH2M Hill doesn't know who owns the road, or the port. That question brought downward glances and hesitation. It was also brought up that the contact from the Army Corps, who was a new employee, basically had not had time to read the most recent public comments and was forthright that she was largely unfamiliar with the project. CH2M Hill stated that there is no NEPA requirement for a supplemental EIS.
Orca Cannery as a potential site was repeatedly brought up, as was the "No Action" alternative. The CH2M Hill facilitator finally had to write the words Orca Cannery alternative on a paper easel. The fact there are other sites that are logical and available was repeatedly mentioned.
EPC was pleased and proud of the turnout and the fact that the Cordova audience actively participated in the meeting. The meeting was digitally recorded. EPC has a copy of the meeting in DVD format and it is being hosted online: www.asln.net/sheperd-pt-public-hearing-set/
We have plans regarding how to get this project location permanently stopped and an oil spill response facility for Cordova.
More to come...
FACTS
The Bureau of Indian Affairs (BIA), the Alaska Department of Transportation (ADOT) and now the Western Federal Lands Highway Division (FHA) have teamed up with the Native Village of Eyak Traditional Council (NVE) to build a 4.5-mile road and deep water port in the name of "Oil Spill Response" at Shepard Pt., in Nelson Bay in the Prince William Sound, north of Cordova.
In 1992, the State of Alaska and the Federal Government reached a settlement agreement with Alyeska Pipeline Services Company to address damages for Alyeska's contribution to the Exxon Valdez oil spill.
The Agreement designates $6,000,000 for the construction of a road from Cordova to Shepard Point and, when appropriate, for work related to the construction of a response storage facility and the prepositioning of oil spill response equipment at that location.
Unfortunately, the Agreement (consent decree) erroneously identifies Shepard Point as the only location for the oil spill response facility in Cordova. The project money can only be used for that laocation. EPC intends to see this changed.