EPC Board of Directors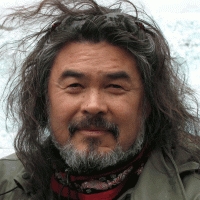 Dune Lankard - Board President
EPC Founder
Native Village of Eyak tribal member, Chugach Alaska Corporation shareholder, Eyak Corporation Shareholder
Cordova, AK  |  Eyak, Eagle clan
Dune Lankard is a strategic and guiding force for the Eyak Preservation Council. His stances in his community have shown vision and courage, even though they have not always been popular and understood.  He is ancestrally from, and a lifelong resident of, Cordova. The morning he found his homelands covered with oil from the Exxon Valdez disaster he turned from commercial fisherman to dedicated community activist. Since that day, he has been recognized for his abilities to link cultural and environmental solutions. In 2006, he was named an Ashoka Social Entrepreneur Fellow; in 2007, his non-profit business idea for the Cordova Cold Storage and Cookery was awarded a Marketplace Alaska award by the Alaska Federation of Natives. He was awarded a Hunt Alternatives Fund-Prime Movers Fellowship: Cultivating Social Capital Award. He sits on boards of the Bioneers, EPC, the NATIVE Conservancy, REDOIL, and on the advisory board of the Seva Foundation and the Alaska Wildlife Alliance. Dune contributes in all of EPC's organizing and strategies, and is a lead strategist in the Bering River Coal Conservation Opportunity and the Shepard Point campaigns. He is also one of EPC's Copper River Wilderness Raft guides.
Board Director: International Funders for Indigenous Peoples, Bioneers, the Native Conservancy, REDOIL,
FIRE Fund, Advisory Board member, Seva Foundation 
---
Carol Kalafatic - Board Director
Associate Director
American Indian Program, Cornell University
Ithaca, NY  | Quechua Tribe
Carol Kalafatic has a lifelong commitment to justice for the Indigenous peoples of the world. She is the Associate Director of the American Indian Program at Cornell University. She holds a seat on the Advisory Board of Heifer Project International's Indigenous Peoples' Initiative. She has worked with tribes and Native villages in the U.S. and Latin America and was the coordinating lead author of a policy development paper for the United Nations Food and Agriculture Organization (FAO). For eight years Kalafatic coordinated the UN Liaison Office and the Right to Food Program of the International Indian Treaty Council. She served as coordinator of the Indigenous Peoples' Caucus of the UN Commission on Sustainable Development (CSD). Carol has spent a lot of time in and has worked on Alaska Indigenous issues. Her guidance regarding EPC's Indigenous cultural programs and EPC's organizational direction is invaluable.
Board Director, A.J. Muste Institute
---
Phillip Blanchett - Board Director
Founder / Manager 
Pamyua 
Calista Corporation shareholder 
Anchorage, AK  | Yup'ik
Founder and manager of the internationally acclaimed music, dance and performance group Pamyua, Phillip brings to EPC a wealth of experience and wisdom. He works with Indigenous youth as a cultural awareness instructor, and teaches sports, music and dance on a regular basis, and gives guidance and workshops on leadership. He has won numerous awards and recognition on an international scale. His accolades include an Alaska Governors Arts award, best documentary at the Anchorage International Film festival named the "Most Influential Artist of the Millennium" award by the Anchorage Daily News. Phillip is also a devoted father of three, and has a degree in Liberal Studies from Alaska Pacific University, and brings benefit events and fundraising skills to EPC.
Music Director and manager of Pamyua, Volunteer for Alaska Native Youth activities
---

Rion Schmidt - Board Director

Native Village of Eyak tribal member, Chugach Alaska Corporation shareholder
Cordova, AK & Maui, HI | Chugach Eskimo
Rion Schmidt is a Native Village of Eyak tribal member, Chugach Alaska Corporation shareholder and environmental activist from the Prince William Sound region. A true voice for the land, Rion has worked to protect his ancestral homelands and the Copper River Delta from harmful development for many years and has participated in many of EPC's successful conservation victories: for example stopping the Carbon Mountain Road across the Copper River Delta with direct action and stopping oil and gas development in Katalla. Rion's professional background includes former positions for the Alaska Center for the Environment and the Native Village of Eyak. His years as a commercial fisherman, subsistence user and land activist have given him a by-experience background that greatly benefits EPC's programs and projects. Rion is currently the co-owner of a music school for children and adults, which operates in both Hawaii and Alaska.
---
Pete Nichols - Board Director
National Organizing Director of the Waterkeeper Alliance
Arcata, CA 
With over 25 years of experience advocating for environmental conservation, Pete brings a track record of successful organizational leadership to the Eyak Preservation Council. He served on the Waterkeeper Alliance Board of Directors prior to joining the staff as the National Organizing Director in 2011. Growing up in Maine, Pete learned to value pristine coastal waters from a young age. In the 1980's Pete served in the U.S. Coast Guard in New York Harbor, where he witnessed the multifaceted demands on the Hudson River estuary. He then moved to California where he became deeply engaged in the struggle to conserve the ancient redwood forests. This ignited a life-long passion. Pete co-founded Humboldt Baykeeper in 2004 in order to safeguard coastal resources for the local community, and served as Executive Director for seven years. As Secretary of the Board of the California Coastkeeper Alliance, and President of the Northcoast Environmental Center, Pete organized bioregional conservation efforts throughout northwest California and southern Oregon. Pete brings an expertise to EPC's Board that is unparalleled when it comes to empowering small communities to develop a collaborative voice in advocating for healthy waterways.